Union Pacific Railroad Safety
Objectives
Collaborated with Twin Cities PBS to design and animate captivating characters for a train safety video targeting kids ages 6-10. The English & Spanish :15 and :30 cha cha cutdowns will go to the PBS stations in markets with the highest number of incidents: Chicago, Los Angeles, Portland, Houston and San Antonio.
Opportunities
Approachable characters were designed and animated dancing to a catchy sing-along cha cha. I strategically built out the characters and transitions in a way the videos and designs could be easily repurposed in additional materials, such as supplemental educational tools available to download for teachers in English and Spanish.
Roles
Character designer, character animator, motion designer, and illustrator.
Client
TPT NOW, PBS
Client: Union Pacific

Producer - Kate Westlund Tovsen
Managing Director - Lillian McDonald
Digital Design - Sydney Gisvold
Production Manager - Luke Heikkila
Editor - Nathan Reopelle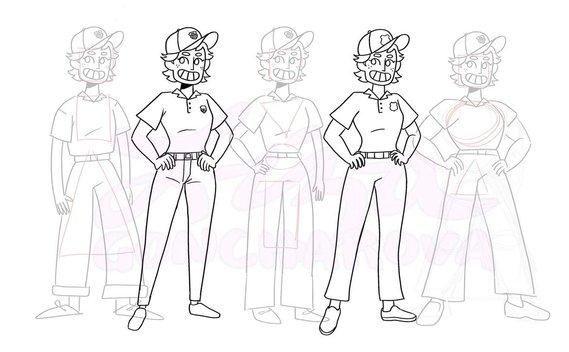 The Process
The Union Pacific brand needed to be expanded for the context of incorporating playful yet relatable characters and colors that kids would gravitate to. To best relay the rail safety information, a main character Conductor Connie was designed to help teach the kids the information throughout the larger video as well as the lead in the cha cha. Two additional kids characters were finalized and incorporated into the dance to encourage the kids to dance and sing along to the memorable song. All characters needed to be versatile for animating a dance as well as posed for various stills. The karaoke text was designed and animated with the branding and visual accessibility in mind using WCAG guidelines and standards.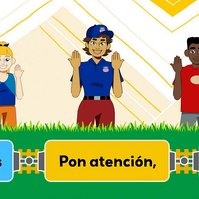 Raiload Safety Cha Cha
:30 Isolated Dance in English
Cha cha de la seguridad para viajar en trencito
:30 danza aislada en español
Extended Versions in English & Spanish
Content rolled out in advance of Rail Safety Awareness Month in September
13 Million Views Across Broadcast & Digital
Total Impressions Exceeded the Projection of 6 Million Views