COVID-19 Community Resources
& Coloring Pages
Objectives
Design a collection of resources during the COVID-19 Pandemic that would live on the WCCO website. The goal was to provide the community with hope, togetherness and a dash of whimsy to help families, individuals, small businesses in need.
Opportunities
Created a humanistic design that was unique from usual news graphics. Invented a Coloring Book initiative and narrative to help children and families in our community during the COVID-19 Pandemic and the lockdown.
Roles
Art Director, Graphic Designer, Illustrator, Animator, Web Designer, Co-Copywriter



Studio
WCCO-TV Minneapolis

Copywriter - Jodi Oelfke
Promotions - Erica Jansen
Community Leads - Kaitlyn Link and Maddie Bennet
Designers - Kelly Pederson, Anne Chase, Maria Vos
Web Lead - Eric Henderson
Webpage Design & Illustrations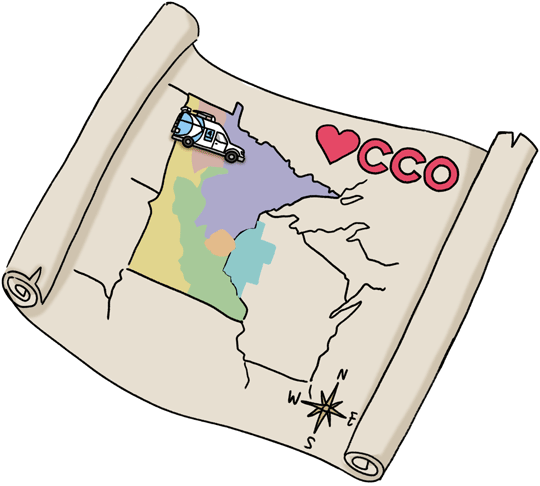 Magical Coloring Book Journey through Minnesota and Western Wisconsin
The journey begins with Frank and Amelia, our main evening news anchors, as the "Duke and Duchess" of the North Star, in the tallgrass aspen parkland of Northwestern Minnesota. For each main anchor, a page, persona and story blurb were created to help inform, entertain and instill hope in kids and families after remote-learning began during the COVID-19 Pandemic and traveling was no longer possible. These pages would be downloadable off of the COVID-19 Community Resources Website on WCCO.COM and during the shows, the anchors would reveal the new page of the week and encourage kids to share their creations with WCCO.

The journey continued through the North Shore, Crystal Caves, Eat Street, Southwest and the Mississippi before ending with a bonus "Plan Your Own Adventure" coloring page.
View the Coloring Book Pages
& Bonus Illustrations Below!
Click on the pages and captions to see more.